We work to improve our present and to project the best future possible for our world
Copete
Our company's global management is guided by and towards the principles of a sustainable development. We believe that we are capable of satisfying present necessities without compromising that of future generations, guaranteeing the equilibrium between economic growth, preservation of the environment and social wellbeing.


Our Values
Our global management is oriented towards sustainable development and aimed at satisfying present needs without compromising future generations. We are committed to ensuring a balance between economic growth and environmental protection and social well-being. Every day, we strive to become the best version of ourselves and to be part of those who design the best future for our world.
Get to Know Our Values
| | |
| --- | --- |
| Ethics | We act ethically, respectfully and transparently with our clients, suppliers and employees in accordance with corporate governance best practices. |
| Innovation | We provide training that promotes the development of our processes, products, employees and customers |
| Quality | We continuously invest in the development of research and technologies that positively impact the future of agriculture and society. |
| Respect | We respect our employees and society, fostering personal and professional growth and sharing opportunities. |
Our Code of Ethics:
In 2016, the members of our Corporate Board approved the first Code of Ethics for Rizobacter. It is a testament and promise made by Directors, Executives and company employees to uphold ethical values of honesty and integrity, not only while interacting within the company and in their commercial relationship, but also within the community.

Our Total Quality Environmental Management
Each step we take is backed by a total quality system. Our products are produced under norm systems that guarantee effective and secure solutions for our clients in rigorous agricultural markets around the world.
How do we do it?
Our exhaustive process of continual improvement allowed us to obtain a triple norm approval for our Integral Management System. Some of the certifications are:

ISO 9001:2008
International Standards Certification.

ISO 14001:2004
Certification that helps in the organization of our audited environmental management of all our processes.

ISO 45001-2028
Certification that guarantees the security and welfare of our employees.

We certify that our corporate carbon footprint meets specified objectives for the reduction of greenhouse gas (GHG) emissions.
Together with our DNV GL certifier, we document all emissions from activities carried out in our production plant and from all the operations we control. This effort is in compliance with the international standard ISO 14064.
Are committed to energy efficiency through our rationalization of resources used so as to improve production, logistics and distribution.
Carry out a rational use of packaging with the selection of raw materials that have less environmental impact. We recycle unused material, such as blisters and plastic containers.
Our plant of sewage effluents is environmentally certified by the Provincial Entity of Sustainable Development, which is the maximum authority in environmental control in the Province of Buenos Aires, Argentina, where our company is based.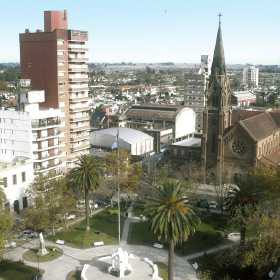 Our Social Behavior
We grow when helping others to grow.
We are committed to our partner's progress and the welfare of the communities influenced by our production.
We are the biggest private employer of Pergamino, a city of 120 thousand inhabitants, the place where the company was born and where we continue to develop our production capacity.
Human Resources' Training and Benefits
We take care of our talent, offering them a healthy work environment and a HHRR policy that provides training and benefits, taking into account each person's work and personal necessities.
Education for Sustainable Development
Through our social responsibility management, we contribute to preparing people, passing on knowledge and values that may contribute to the building of a future with greater opportunities. We offer the following:

Scholarships for students: Designed a program to provide opportunities for students who show dedication and outstanding results in their academic field.

First Job Experience: Call on young Secondary School graduates with high averages so they may carry out the first job experience in our company. In this way, they can be better prepared for their university studies.

Specialized Training for Students from Agroindustry Schools: Promote correct agricultural practices and the use of sustainable technologies that can improve production.

Social Work and Volunteering: Maintain bonds with social organizations, we strive to help vulnerable sectors of our area.